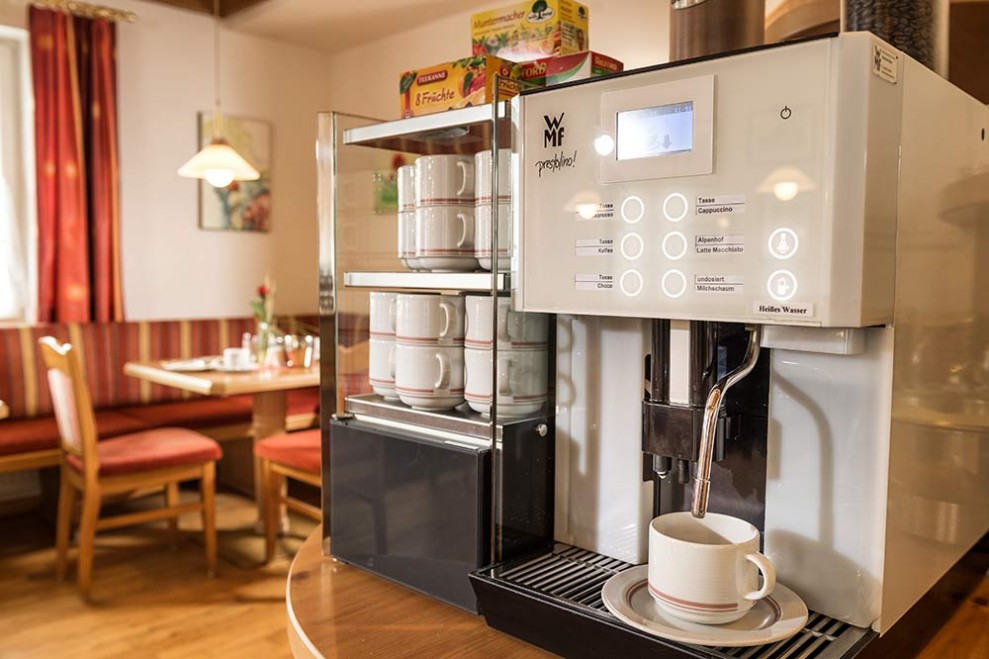 Hotel Alpenhof all-round service
We serve you an extensive breakfast including the finest coffees (cappuccino, latte macchiato, espresso, …), a large selection of teas, sausages, ham and cheese, fresh fruit, eggs, muesli, various spreads and jams, a variety of tasty bread from our local baker, juices, …. in short everything to start you on an eventful day in Gastein.

Get FREE:
WiFi
sauna
poolbillard
in summer: rental bicycles; in winter: rental toboggan
on request rental bathrobe
daily newspapers and magazines, ...
sun beds in the garden
parking lot
dogs free of charge

Get at a GOOD PRICE:
 

radon-thermal tub

massages
garage
tickets for the spa Alpentherme Gastein
Golf Club Gastein: Greenfee discount

Of course we offer:
1 Tesal Destination Charger  ...

"Type 2" Wallbox: this can be used by Tesla's as well as E's and Plug-in's vehicles

European brands

3 Charging station's

for E-Bikes

single rooms without a surcharge

non-smoking-rooms
lounge
elevator
shoe dryer for hiking boots and ski boots

Hiking sticks and Smovey's to rent, free of charge

ski-stable
all Gastein-advantages with the Gastein Card
In our hotel you can see on all TVs Netflix or Amazon video if you enter your own code. Internet surfing is possible on any of our TVs!

Footing the bill by:
cash
bank transfer
Maestrocard                                                                                                                    
Visa or Mastercard
We are member of the following groups "Bergwanderhotels", "Wanderbares Gastein" und "Almsommer Partnerbetrieb". Therefore we are able to offer the following services:
guided hikes (also in case of bad weather)
hiking-taxi
a competent contact person
rental service free of charge
hiking map and tour descriptions
nature- and plant guide book
breakfast service for summiteers
washing- and drying facilities for clothes and shoes

Charging station

for electric vehicles
Your feedback:

Please stay fair. Unfair judgments make us want to judge your home as well. Because of the fairness. MfG, Axel Planatscher